driversselect PURPOSE
"To infect the workplace with highly contagious care."
CORE BELIEFS
The greatest impact we can make with our work is to show people how to live and care for others. Greatness is measured by the value you create for other people.
MISSION
Together We Grow!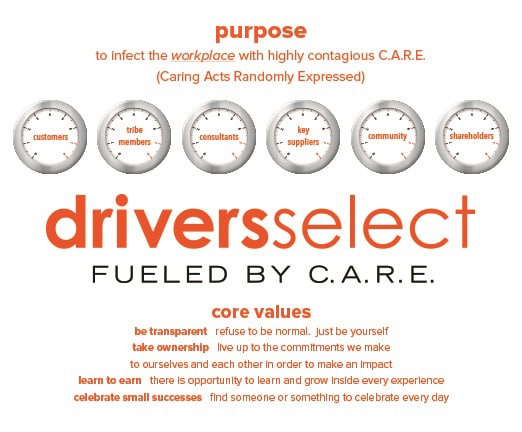 Learn to Earn/Take Ownership Credo
As a family member, I am responsible for taking ownership of understanding what is expected of me everyday and following it up with action, asking for help and support where needed, and being open to learning from the success of others while also making my own contributions to the learning of my fellow family members. I won't wait for someone to tell me what to do, when to do it or even why to do it. If I need to know, I'm responsible for asking. If I'm doing something that will impact the performance of others (positively or negatively) I'm responsible for informing them. This is what it means to live the core values of learn to earn and take ownership.